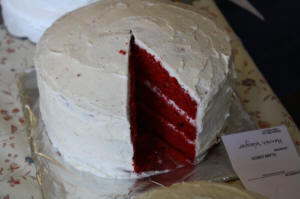 Red Velvet Cake
Baked by Cameron Runyon
Logan County Fair Cake Classic

1 cup butter, softened
2 eggs
1 bottle (1 oz.) red food coloring
1 teaspoon baking powder
1 teaspoon salt
1 teaspoon vanilla
1 ½ cups sugar
1 tablespoon cocoa
2 ½ cups cake flour
1 teaspoon baking soda
1 cup butter milk
1 teaspoon vinegar

Cream together the butter, sugar and eggs. Add food coloring to the creamed mixture. Sift together all the dry ingredients.
Alternate flour mixture and buttermilk into creamed mixture. Add the vanilla and vinegar. Bake for 30 minutes at 350
degrees in 3-8 inch, layer pans, lined with waxed paper.

Frosting
3 tablespoon flour
1 cup milk
1 teaspoon vanilla
1 cup butter
1 cup sugar

For Frosting: Cook flour and milk together until very thick, stirring constantly, then cool. Cream butter, sugar and vanilla
until fluffy, then add the cooled flour/milk mixture and beat well. Spread between layers and on top and sides.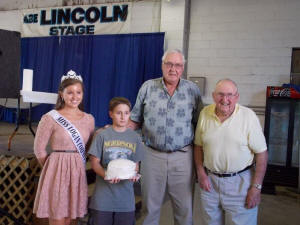 Cameron Runyon -- Red Velvet, purchased by Bill Zimmer of DeKalb Asgrow Seed for $400