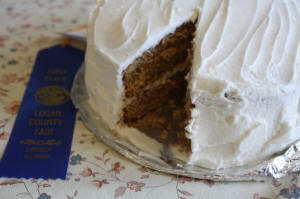 Homemade Spice Cake
Baked by Kelsi Ubbenga
3rd place winner in Logan County Fair Cake Classic

2 cups all-purpose flour
½ teaspoon baking soda
½ cup softened butter
2 tablespoon honey
2 large eggs plus 1 egg yolk
1 ½ teaspoons cinnamon
½ teaspoon nutmeg
2 teaspoon fresh baking powder
½ teaspoon salt
1 cup packed dark brown sugar
1 ½ teaspoon vanilla extract
1 ½ cups unsweetened applesauce
¼ teaspoon ground ginger
pinch ground cloves

Blend flour, spices, baking powder, baking soda and salt in a large mixing bowl.
In a separate bowl, cream butter, sugar, honey and vanilla. Set aside.
In a third bowl, combine eggs and applesauce. Whisk to incorporate.
Add the egg mixture to the butter mixture slowly. Combine about a half-cup at a time to make mixing easier.
Add flour mixture to the eggs and butter in half-cup increments until fully blended.
Pour batter into a greased and floured pan. Use a loaf pan, cake pan or cupcake tins.
Bake a 325 degree oven for 30-35 minutes.
When done, the edges of the cake should pull away from the pan a little, and a toothpick inserted into the center should
come out clean. Cool and ice.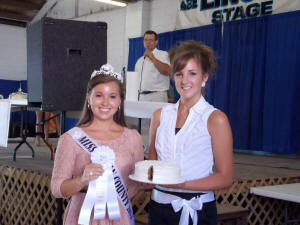 2011 Logan County Fair Queen Kelsi Ubbenga earned third place with her spice cake, and it won $400 for the Logan County 4-H Foundation. The cake was purchased by Judge John McClullough.