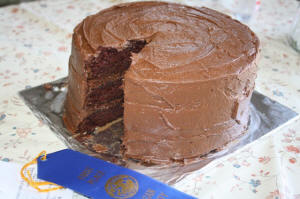 Mocha Cocoa Cake
Baked by Jeanne Runyon
4th Place winner in Logan County Fair Cake Classic

3 cups packed brown sugar
1 cup butter, softened
4 eggs
2 teaspoons vanilla extract
2 2/3 cups all-purpose flour
¾ cup baking cocoa
1 tablespoon baking soda
½ teaspoon salt
1 1/3 cups sour cream
1 1/3 cups hot coffee

In a mixing bowl, cream brown sugar and butter. Add eggs one at a time, beating well after each addition. Beat on high
speed until light and fluffy. Blend in vanilla. Combine flour, cocoa, baking soda and salt; add alternately with sour cream
to creamed mixture. Mix on low just until combined. Sir in coffee until blended. Pour into three greased and floured 9-
inch round baking pans. Bake at 350 degrees for 35 minutes. Cool in pans 10 minutes; remove to wire racks and cool
completely.

Frosting:
½ cup butter
3 squares (1 oz. each) unsweetened chocolate
3 squares (1 oz. each) semi-sweet chocolate
5 cups confectioners' sugar

For frosting, in medium saucepan, melt butter and chocolate over low heat. Cool several minutes. In a mixing bowl,
combine sugar, sour cream and vanilla. Add chocolate mixture and beat until smooth (may need to add more sour cream
if frosting is too stiff). Frost cooled cake.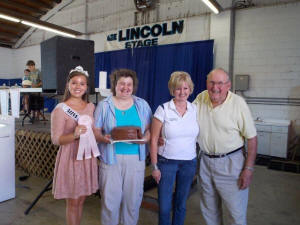 Fourth place -- Jeanne Runyon -- Chocolate, purchased by R.W. Garrett Insurance (Nancy Schaub pictured) for $300