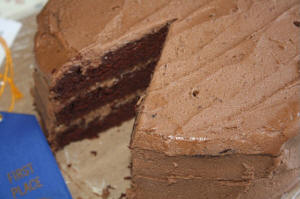 Perfect Chocolate Cake
Baked by Ashlan Francis
2012 Logan County Fair Cake Classic

1 cup unsifted, unsweetened cocoa
2 cups boiling water
2 ¾ cups sifted all purpose flour
2 ½ teaspoons baking soda
½ teaspoon salt
½ teaspoon baking powder
1 cup butter
2 cups granulated sugar
3 eggs
1 ½ teaspoon vanilla extract

In a medium bowl, combine cocoa with boiling water, mixing with wire whisk until smooth. Cool completely. Sift flour,
soda, salt and baking powder. Preheat oven to 350 degrees. Grease well and lightly floured three 9 x 1 ½ inch layer cake
pans.
In a large bowl beat butter, sugar, eggs and vanilla on high speed about 5 minutes. Beat in flour mixture and cocoa
mixture. Bake 25-30 minutes. Cool and frost.