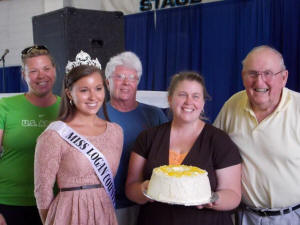 Orange Chiffon
Baked by Annie Dunbar
2012 Logan County Fair Cake Classic

6 large eggs, separated plus 1 additional egg white
2 ¼ cups sifted cake flour
1 ½ cups superfine white sugar
1 tablespoon baking powder
½ teaspoon salt
½ cup vegetable oil
¾ cup freshly squeezed orange juice
2 tablespoon orange zest
1 teaspoon pure vanilla extract
¾ teaspoon cream of tartar

Separate the eggs and place the whites in one bowl and yolk in another. Cover and bring eggs to room temperature.
Preheat oven to 325 degrees.
In a bowl of your electric mixture, place flour, sugar (minus 3 tablespoons), baking powder and salt. Beat until combined.
Make a well in the center of the flour mixture and add the egg yolks, orange juice, orange zest and vanilla. Beat until
smooth.
In a separate bowl, beat egg whites until foamy. Add the cream of tartar and continue to beat until soft peaks form.
Gradually beat in the remaining 3 tablespoons of sugar and beat until stiff peaks form. With the large spatula, gently fold
the egg whites into the batter just until blended.
Pour the batter into the ungreased tube pan and bake for 55 to 60 minutes or until wooden skewer inserted into the center
of the cake comes out clean. Immediately invert the pan and place on bottle or flat surface so it is suspended over the
counter. Let the cake cool completely before removing from pan.

Frosting:
1/3 cup shortening
1/3 cup butter
¼ teaspoon salt
4 cups confectioners' sugar
4 tablespoons orange juice
2 tablespoons orange zest
Cream shortening, butter and salt. Add sugar, orange juice and zest. Beat well.