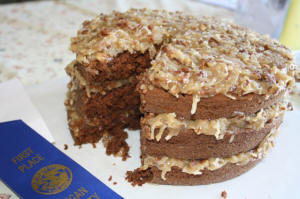 German Chocolate Cake
Baked by Joan Dahmm
1st place winner of the 2012 Logan County Fair Cake Classic

˝ cup boiling water
1 bar (4 oz.) Sweet Baker's chocolate
1 cup butter
2 cups sugar
4 egg yolks
1 teaspoon vanilla
2 ˝ cups cake flour
1 teaspoon baking soda
˝ teaspoon salt
1 cup buttermilk
4 egg whites, stiffly beaten

Heat oven to 350 degrees. Grease and flour 3 round cake pans. In a small bowl combine water and chocolate. Sift
together flour, baking soda and salt. In a large bowl cream butter and sugar together. Add egg yolks one at a time
beating after each addition. Add vanilla and melted chocolate mixture on low. Add in sifted mixture alternately with
buttermilk. Fold in egg whites by hand. Divide batter evenly into pans. Bake 25-30 minutes.

Icing
2 cups evaporated milk
2 cups sugar
6 egg yolks, beaten
1 cup butter
2 teaspoon vanilla
2 2/3 cups coconut flakes
2 cups chopped pecans

In a medium saucepan, melt butter and removed from heat. Add evaporated milk, sugar and beaten eggs. Cook and stir
over medium heat until thick. Remove from heat and add vanilla, coconut and pecans. Cool until thick enough to spread.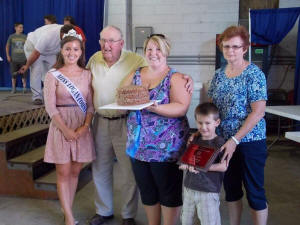 Joan Dahmm -- German Sweet Chocolate cake, purchased by Cullers French Fries for $1,000. Cullers also gave a basket to the first-place winner in honor of their father. The McLaughlin award was presented by Donna McLaughlin.