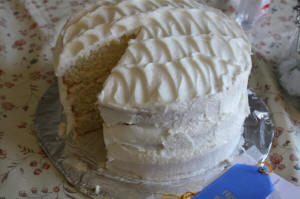 Perfect White Cake
Baked by Sheila Bradburn
2nd place winner of Logan County Fair Cake Classic

18 tablespoons unsalted butter, room temperature
4 ½ cups cake flour
1 ½ cups whole milk
9 large egg whites
½ teaspoon vanilla extract
1 tablespoon butter flavor
2 tablespoons baking powder
1 ½ teaspoons salt

Preheat oven to 350 degrees. Butter and flour 3 9 x 2 inch cake pans.
In a medium bowl stir together milk, egg and extracts. Into an 2nd medium bowl sift together flour, baking powder and salt;
set aside.
In a bowl fitted with a paddle, beat butter on medium speed for 30 seconds. With mixer running slowly add sugar, continue
to beat about 2 minutes until light and fluffy.
Add 1/3 of flour mixture and 1/3 of milk mixture to the butter. Beat on low until incorporated, add remaining ingredients
starting with flour and ending with flour. Divide into pans. Bake for 25-30 minutes. Cool and ice.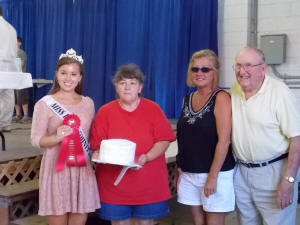 Second place -- Sheila Bradburn -- White Butter cake, purchased by Sivori Catering (Lynda Reed pictured) for $500