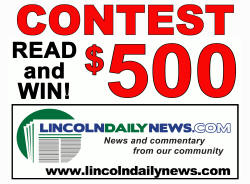 LDN READ AND WIN CONTEST - DETAILS
Prize: $500 Number of Winners: 1
Starts: Monday June 30 10am
Ends: Tues, July 8 at 5pm
[the contest runs Monday thru Thurs July 3, and finishes on Monday & Tuesday of the following week because of the July 4th holiday]
Drawing for the winner: Thursday, July 10.
A new special section will appear with Monday morning's edition. It will be chocked full of ads. Each ad will have at least one of these signs in it:

. Click on this sign and you will receive an answer. You will receive either a notice saying you have found one

or try again

. There are 5 "You have found one" responses each day, and they are in different locations every day. As you find the "You Found One" signs, note which ads you find them in.
The entry form is on the last page of the special section. Enter your contact information (you may enter once a day), and list the ads where you found the "You Found One" signs. It couldn't be easier. When you are finished filling out the entry form, click the submit button.
The complete edition of the official rules are in special section.
Tell all your friends and acquaintances to play the LDN Read and Win contest!