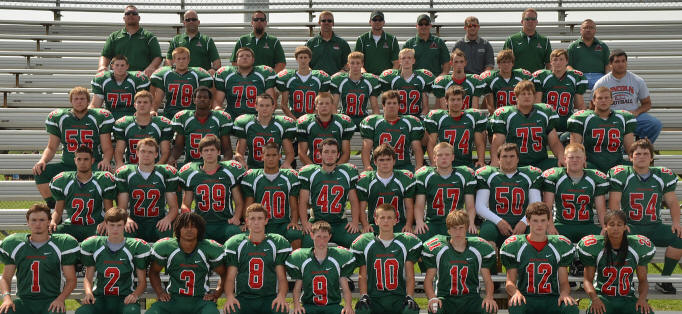 Photo Courtesy of Picture This Photography
First Row (Left to Right): Brent Metelko (1), Zac Podunajec (2), Cameron Cook (3), Garrett Aeilts (8), Christian Gorman (9), Quentin Bone (10), Nathan Podunajec (11), Andrew Yount (12), Shawn Cannon(20)

Second Row (Left to Right): Alex Linares(21), Braden Tanner(22), Koltyn Grant (39), Chris Duong (40), Ryan Rutschke (42),
Scott Lessen (44), Griffin Pollock (47), Brady Anderson (50), Brock Laubenstein (52), Ethan Kunkel (54)

Third Row (Left to Right): Connor Neitzel (55), Trent Whitham (57), Eric Sutton (58), Zac Montcalm (61), Caleb White (63)
Jacob Berglin (64) Zack Prather (74), Sage Conrady (75), Seth Gleason (76)

Fourth Row (Left to Right): Jacob Huskins (77), Ian Neitzel (78), Ben Steiner (79), Koby Bottrell (80), Will Cook (81),
Austin Dennison (82), Tyler Ferguson (84), Seth Merreighn-Turley (85), Keegan Buck (89), student asst. John Riddle.

Fifth Row (Left to Right): Asst. Coach John Mammen, Asst. Coach Matt Vlahovich, Asst. Coach Chuck McFadden,
Head Coach Andy McDonald, Asst. Coach Jake Harnacke, Asst. Coach Joe Ryan, Asst. Coach Mike Smania,
Football Assistant, Tim McDougall.