CANINE FIRST AID KIT ESSENTIALS
by Lara Borgerson
Every family that owns a dog should assemble a first aid kit for canine emergencies at home and on the road. It should be complete, yet portable enough to take on trips and include the following items:

Cornstarch--Apply in layers to help stop a bleeding toenail

Cotton,bandages,tape and bandage scissors--Contain bleeding wounds temporarily

Hydrogen Peroxide--Induce vomiting when advised by a veterinarian

Pet information card--Include petís name, ownerís name, ownerís address and phone number, microchip number, petís weight, current medications and dosages.

Veterinary professional information card--Include vetís name and phone number, poison control phone number and website (888-426-4435; aspca.org/pet-care/poison-control); emergency clinic number

Corn or pancake syrup--Rub on gums if low blood sugar is suspected

Sterile Saline Eye Wash--Flush eyes if exposed to irritant

Muzzle--Practice applying in advance of an emergency. When a painful pet needs to be transported to a safe area, it may attempt to bite.

Rectal Thermometer and KY jelly--The normal canine temperature is 100 to 102 degrees F

Blanket--Can be used for comfort, warmth or double as a stretcher if needed

Leash and collar

Medication--Include extra dosages of current prescriptions and instructions if prescription runs out before a refill can be obtained
Flashlight--Use to closely examine injuries or to aid in a night emergency

Benadryl--Use for insect stings and subsequent acute facial swelling. Give at a dose of 1 milligram per pound and call the veterinarian.


Keep this list in with the items in the kit and replace items when used from the kit. Instruct every family member on how to use each item in the kit in preparation for most situations until veterinary care is obtained.
Animals for Adoption brought to you by: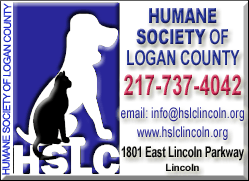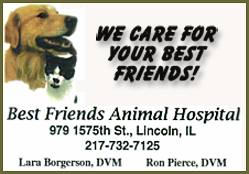 A Need For Loving Foster Homes
For Homeless Dogs and Cats
Since the Humane Society of Logan County Shelter has been in operation the number of foster families has dwindled to almost none. Granted, most of the animals can be taken directly to the shelter and kept there until they are adopted. But, there are exceptions. Consequently, foster families are still very, very important.

HSLC needs foster families for:
Cats with feline leukemia

Cats that are too stressed to reside in a shelter

Cats in danger of being euthanized

Cats who need a break from living with several other cats

Cats needing extra socialization
HSLC needs foster families for:
Dogs who are living at animal control

Dogs with special needs such as an injury, epilepsy, diabetes, etc.

Dogs who need a break from living in a kennel

Dogs needing extra socialization

Dogs who need training.
Please consider becoming a foster home. With the shelter in place, a foster home might be a short term placement for an animal, but it is invaluable. Call Wanda Stevens at 217-648-2703 or 217-737-4042 to learn more about fostering. HSLC needs you!
[Ellen Burbage, Humane Society of Logan County]